Post-Construction Cleaning
Attention Builders and Developers!
When It's Time To Clean........Call CleanTime!
This area is typically for Home Builders and Developers, but we also receive inquires from new home owners too! If you are a builder you know the most important part of a new home construction is the 'final clean' and inspection. The home can have all the best mechanical enhancements on the market, but the part that really counts is the cleanliness. If it's not clean - it appears old.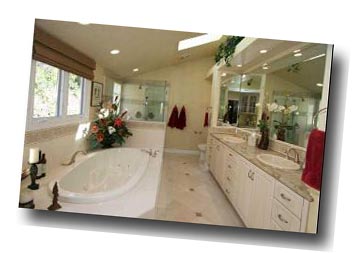 We guarantee we will provide the new owner with a spotless, clean environment. We are proud of our attention to detail that you will receive from CleanTime Services. Our specialized advanced post construction cleaning process is second to none in the cleaning industry. We provide the best value for your sales staff!
Following is an example of what to expect to ensure that your customer is satisfied:
Vacuum and wipe down all woodwork, base boards and shelving.

Clean all light fixtures.

Vacuum and hand wipe inside and outside of all cabinets.

Clean all ledges and window sills.

Wipe and clean all counter tops.

Clean and shine outside of all appliances.

Clean tubs and tub walls.

Clean toilets, inside and out, from top to bottom.

Vacuum and clean all HVAC vents.

Remove all stickers from new fixtures and appliances.
Vacuum and clean all window frames and tracks.

Remove all debris from windows, including silicone, paint, waterproofing and chemical stains.
In addition to the above, we would be pleased to provide a general estimate for our routine maintenance cleaning, which is also inclusive in the post construction cleaning process.
List of routine maintenance cleaning:
In Each Room:
All garbage collected and put in trash bin in garage.

Base boards vacuum/dusted as needed.

Door frames and 'fingerprint zone' on all doors cleaned.

Window sills and ledges wiped.

Switch plates all cleaned.

Furniture polished. No rings around objects – they are all removed before dusting/polishing, cleaned and replaced.

Glass over artwork and frames cleaned.

Mirrors cleaned spot and streak free.

Area rugs vacuumed/shaken out and replaced.
Bathroom:
Vanity counter tops squeaky clean.

Mirrors spot and streak free.

Shower cleaned and dried.

Toilet bowl cleaned complete.

Floor vacuumed and mopped.
Kitchen:
Counter tops squeaky clean.

Coffeepot emptied and cleaned.

All appliances exteriors cleaned.

Refrigerator water tray cleaned.

Microwave cleaned inside and outside.

Handles to all doors and cabinets cleaned.

Floor vacuumed and mopped.
Laundry Room:
All appliance exteriors cleaned.